Welcome to the Elite Program
Mission Statement:
"To provide horsemen an opportunity for professional and personal growth, by increasing their understanding of the horse with which they work and enhancing their professional skills."
Questions or to receive more information about Groom Elite classes, EMAIL US HERE.
June 10 Update

Busy June and July ahead for Dr. Mac
June 11-15. Second Chances Groom Eite at James River Work Center, Richmond, Virginia
June 18-22. Groom Elite 101 assessment and graduation at Prairie Meadows, Altoona, Iowa.
June 25-29. Basic Grooming 099 at Laurel Park, Maryland (see below) CLICK HERE to sign up online
July 12-14 and every Thursday thru Saturday through August 2-4 Groom Elite 101 at Presque Isle, Erie, Pennsylvania.
Want to work with racehorses at Laurel Park this summer?


Basic Grooming 099 June 25-29 will prepare you for an entry level position. If you are interested in attending, contact the Maryland Thoroughbred Horsemen's Association

Want to work with horses? This workforce preparation class will provide the
basic horse handling and care knowledge and skills you will need to work safetly around equine athletes. Learn tterminology and skills required for entry level worker positon in the equine industry, with specific emphasis on racehorses. Participants that complete this course and pass evaluations on Friday are virtually assured of being offered a job. If space is available (class size limited to 24 and we will maintain a waiting list), BG099 is a good class for individual horse owners and those wishing to become horse owners, particularly owners working with retired racehorses. Sponsored by the Maryland Thoroughbred Horsemen's Association, there is no tuition for this class. To Sign Up Online CLICK HERE
or contact:
Maryland Thoroughbred Horsemen's Association directly at
Office Phone: 410-902-6842
Email: info@mdhorsmen.com
Like us on Facebook (Groom Elite) and on twitter @creidmac for updates on upcoming classes. Some exciting changes are on our horizon. Check back on this page for updates.
Next Trainers Exam Prep Class: Remington Park, Oklahoma City - August
For General Information about Trainers' Exam Prep Classes, CLICK HERE

You can help us improve lives of humans and horses!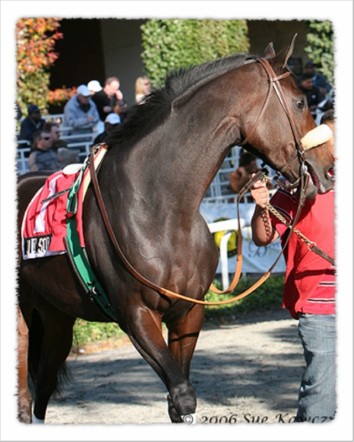 The Elite Program suports efforts to improve the welfare and safety of all horses with emphasis on racehorses, active and retired. Training a groom to recognize early warning signs of colic or subtle indications of an impending injury provides a direct benefit to those horses by enabling treatment that prevents more serious and even life threatening illness or injury.

CLICK HERE to donate now.

All horses, especially racehorses, are at risk of injury and health problems. In addition to the pressures of daily confinement, racehorses' legs are subjected to the pounding of speed work and their general health is challenged by exposure to large numbers of horses from many different locations.
Read More